By
BH
in
Bands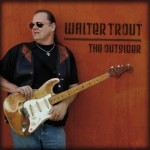 Having played alongside some of the greatest names in Blues including John Lee Hooker, Big Mama Thornton, John Mayall & the Bluesbreakers and Canned Heat, the adage "six degrees of separation" certainly does not apply to world-renowned musician, Walter Trout. Strapped to an axe for 35 years, it is no wonder Trout's roots are showing on his seventh U.S. release, "Relentless". Fans and critics will no doubt agree that Walter Trout is now zero degrees away from the Blues greats.
The Los Angeles Times describes the Southern California resident as "a torrential, gladiator guitar player – the kind the term 'guitar hero' was coined to describe." With his arresting technique, relentless tour schedule, (Trout plays upwards of 200 dates/year) and exhilarating showmanship, Trout merited the cover of Blues Revue in October '00, and his first American live album, Live Trout (released in 2000), hit #15 on the Billboard Blues charts followed by a Top 10 entry with "Go The Distance." Now "Relentless" propels the forward momentum. The 14 original tunes were performed for the first time as they were being recorded in front of a dynamic studio audience at the Paradiso Theater in Amsterdam. It was produced by Jim Gaines, (Blues Traveler, Santana, Stevie Ray Vaughan). As cuts like the hard driving "Mercy" and soft acoustic "Lonely Tonight" can attest, Walter Trout & The Radicals' final destination may be unknown, but they have embarked on the journey and are enjoying the ride, picking up rabid fans along the way.
Playing live is something Trout knew, even as a youngster, that he wanted to do. A chance meeting during his childhood with the mighty Duke Ellington catapulted Trout's interest in pursuing a professional music career. "That was the turning point in my life," he recalls. "I was there for two hours while Duke, Cat Anderson, Johnny Hodges and Paul Gonsalves sat in a circle and talked to me about music and life. They were so warm and generous and kind to me. I was in awe."
As a teenager Trout got bit by the rock bug, plugged into an amp and never looked back. It didn't take long for him to gain entry into the major leagues. His ability to tear up the neck made him a sought after sideman for John Lee Hooker and eventually launched a solo career after cutting his chops the way Eric Clapton and Mick Taylor did, playing with John Mayall & the Bluesbreakers.
Walter Trout at St. Albans, England 2002 – Photo © Richard Boyles
In a BBC radio poll, Trout was ranked #6 out of the top 20 all-time greatest guitarists (where a few more votes would've landed him snugly in the Top 5 amongst Jimi Hendrix and Jimmy Page!). Trout has his sites set on similar stateside notoriety. His 1998 self-titled release (and his American debut) was locked on Blues Revue's Top 40 sales chart for a year where it peaked at #18. Consistently packing crowds into 1,000+ seat venues and sought out for all the key Blues Festivals nationwide, Walter Trout & The Radicals will continue to ride coast to coast playing their hearts out and lighting up their audiences.
Both on record and on stage, Trout keeps the art of blues thriving and vivacious. Blues Revue comments "Trout gets into the groove where the magic happens. But each night offers a particular set of circumstances that keep the music fresh." From introspection to full blown rockin' blues, Trout's music is always marked by his adept song writing, sturdy vocals, searing guitar work and ability to enhance the boundaries of one of music's oldest forms. But as Trout is quick to point out, "the blues shouldn't be a museum. The music ought to constantly expand and be alive."
:: Discography ::
2005 – Deep Trout -
2003 – Relentless -
2002 – Life In The Jungle -
2001 – Go The Distance -
2000 – Live Trout -
2000 – Face The Music -
1999 – Livin Every Day -
1998 – Walter Trout -
1997 – Positively Beale Street -
1995 – Breaking The Rules -
1994 – Tellin Stories -
1992 – No More Fish Jokes -
1992 – Transition -
1990 – Prisoner of a Dream -
:: Contact ::
Website: http://www.waltertroutband.com/
Email: walter@waltertrout.com